Gran Canaria information and Guide..
This Just Gran Canaria guide site provides information about this popular holiday destination with it's all year round warm weather.
Search Just Gran Canaria Site
Gran Canaria information and Guide
See our Facebook Page
Gran Canaria is one of the Canary Islands that are situated in the Atlantic ocean roughly 210 kilometres west of Morocco in Africa.
Gran Canaria 1,560 square kilometres (538 square miles) is smaller than Tenerife but has the largest population, 740,000 inhabitants. The Island is roughly round in shape with the peak of Pozo de Las Nieves (1,949 metres above sea level), in the centre of the island. Radiating from the peak, like spokes of a wheel are deep ravines roughly 26 kilometres in length that reach the coast. Gran Canaria is probably the most scenic of the Canary Islands.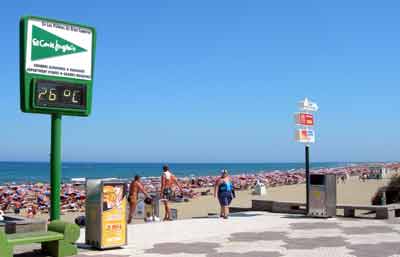 Playa del Ingles beach, Gran Canaria. Sign showing temperature as 260C
Maspalomas sand dunes
The famous sand dunes of Maspalomas appear to have come straight out of Lawrence of Arabia. The natural sand of the Canary islands is black made from the volcanic rocks of the area. The sand dunes of Maspalomas are of golden sand that has blown over the sea from the Sahara desert
This Just Gran Canaria guide site provides information about this popular holiday destination with it's all year round warm weather.
More about the famous Maspalomas sand dunes
Holidays to Gran Canaria
See our selected holiday hotels and holiday apartment from the UK's top tour operators
and also from top online booking agents
Gran Canaria airport - Las Palmas (LPA)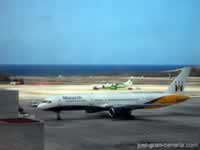 Plane at Las Palmas Airport (LPA) Gran Canaria
More about
Gran Canaria Airport - Las Palmas
Gran Canaria Resorts
Information Photographs and Maps about Gran Canaria resorts click the resort links
Amadores Map & information Playa del Ingles Map and information
Puerto Rico Map and information
Gran Canaria Beaches
Nearly all resorts have beautiful sandy beaches. Some appear a little strange because the local sand was produced by wave beating on the volcanic rock, this sand is very dark in colour, some call it black sand, but it is more dark gray with a touch of brown.
Other beaches have either been enlarged or are totally man made by the importation of golden sand.
Maspalomas beach and sand dunes is the best beach on the island in this case the fine golden sand has been blown over from the Sahara desert by storms over millions of years.
Hotels
See our pages of Gran Canaria hotel information. With hotel photographs, short description and hotel location to the resort and local facilities such as bars, restaurants and shops. Amadores hotels Playa del Ingles hotels Bahia Feliz hotels Maspalomas hotels Meloneras hotels Playa del Ingles hotels San Augustin hotels Playa Taurito hotels Apartments We have a selection of Gran Canaria apartments with apartment information, location, description and photographs. Many of our apartments are shown on an apartment interactive map. Note that Aparthotels are listed under Hotels Amadores apartments Playa del Ingles apartments Bahia Feliz apartments Maspalomas apartments Meloneras apartments Playa del Ingles apartments Puerto Rico apartments Playa Taurito apartments
Gran Canaria Flights
Information about cheap flights to Gran Canaria from the UK
UK top tour operators flights & airlines
Top Online Booking agents

Skyscanner Searches for the lowest prices for flights
Tourist information
The Resort Tourist information Offices are listed on our individual resort pages and there location is displayed on our resort maps
Holiday Extras
Bars and Restaurants
The Bars and Restaurants in Gran Canarian resorts are like the shops, they are concentrated in shopping centres. you will find others on the main roads and often on the ground floor of apartment blocks.
The liveliest resort by far is Playa del Ingles, the next liveliest at a reduced scale is Puerto Rico.
All resorts have a selection of good bars and restaurants some have entertainment and most have some bars run or staffed by Brit's.
Because of the great all round weather many bars and some of the restaurants have outside terraces, with waiter service. On the whole this service is good service with wise and friendly smiling faces. probably 2 reasons for this, there is no shortage of experienced staff and the staff are trying to ensure you enjoy yourself and are then likely to leave a good tip.
Tipping
The normal tip is 10% if you have had good service with a smile then tip a bit better.
Las Palmas, on the northern tip of the island, is the capital and offers excellent shopping. Many tour operators run day or half day tours to Las Palmas.
Shopping centres
In the resorts shops along with bars, restaurants and nightlife are usually concentrated in shopping centres. many maps show these as CC, commercial centre. We have shown the location of the main shopping centres on our resort maps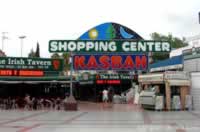 Kasbah Shopping Centre and Irish Centre
Playa del Ingles
Bus Stops & Bus Routes
Gran canaria is well provided by with public transport buses.
Where know we have started to place the location of bus stops on our resort maps.
We also are also marking the bus routes on the maps.
This has been done for
Playa del Ingles bus route Map and Maspalomas bus route Map
Gran Canaria Bus Routes & information
Gran Canaria Municipalities
Agaete
Agüimes
Artenara
Arucas
Firgas
Gáldar
Ingenio
Mogán
Moya
La Oliva
Las Palmas de Gran Canaria
San Bartolomé de Tirajana
Size of the Municipality
San Bartolomé de Tirajana is the largest in area of all the Municipalities of not only Cran Canaria but of all the Canary Islands with an area of 333 square kilometres
Capital
The town of San Bartolomé de Tirajana which is the size of an English Village
The municipality contains the large beach resorts Playa del Inglés, Maspalomas, Sonnenland and San Agustin.
San Nicolás de Tolentino
Santa Brígida
Santa Lucía de Tirajana
Santa María de Guía de Gran Canaria
Tejeda
Telde
Teror
More Travel Sites
© Copyright 2004
just-gran-canaria.com
Just Gran Canaria - Tourist information, attractions, hotels, apartments, holidays and flights to Gran Canaria, Spain