Search Just Gran Canaria Site
Orquidea hotel
Bahia Feliz, Gran Canaria
Hotel Orquidea Description
This hotel is special because.. ...it is set in extensive, palm tree-filled gardens that run down to the dark sandy public beach. The hotel offers all sorts of sports and loads of entertainment that's tailor-made for families, from pool games and 5-aside football to professional shows and a disco for the grown-ups.
Entertainment
The Orquidea's Super entertainment is second to none, with two professional shows a week being just the beginning of a packed program. The Thomson Super family team keep days and evenings full of things to do. All of the family is needed to help get the scores up on quiz night. Evening activities for the kids include games, quizzes and even a talent show.
Once the night's outside entertainment draws to a close, grown-ups can head inside for the disco bar to continue the party. Daytime activities vary from energetic games in the pool to brain-teasing quizzes'. Add to that games of Twister, Giant Jenga, Giant Connect Four, pool, skittles and table tennis and you can see what makes Thomson Super family so much fun. Entertainment outside will finish at 23.30.
Please note that the Kidzone Club room is outdoors and is therefore not air-conditioned.
Activities
Swimming lessons for all levels with fully UK qualified coach. Bookable on arrival for a small charge. Available June - September. FA qualified football coaching with Tottenham Hotspur football club available: 16th-29th July If you're interested in the great Super sports offered here, why not try your hand at tennis, volleyball or five-a-side football? Conditions on the beach are superb for windsurfing (under separate management). A Thomson Sport Coach is on hand during July and August running a program that all ages and abilities can join in with.
Official rating 4 Star
Location:
The Hotel ClubHotel Riu Gran Canaria is located on the south east coast of Gran Canary, one of the Canary Islands, Spain. The Hotel Orquidea is located separated from the beach at Bahia Feliz by it's beautiful gardens, pool, bars and facilities, in a self contained resort in the south of the island, so you can nip back from the beach to the pool at any time for a quick swim (tidal conditions can at times make the sea unsuitable for swimming ).
Restaurants
Buffet breakfast and dinner served in the dining room. Kids will feel special with their very own buffet.
Grill al fresco restaurant and a la carte dining available at El Sultan restaurant.
Distances from Hotel Orquidea
A local bus runs every 20 minutes to Las Palmas and all resorts to the south from the bus-stop 300m away
Playa de Ingles is just 6km away.
Room Facilities
2-4 beds
All rooms have one double or two twin beds plus a double sofa bed, or a sofa bed with a pull-out bed in the lounge area,
Telephone
Satellite TV (only news and sports)
Some facilities may incur extra local charges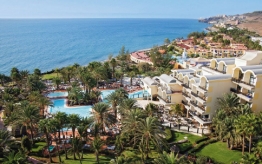 Secure online booking
Book a Package Holiday with Flight or just the Hotel with Thomson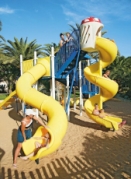 Guest room information
Hotel bedrooms 255

Lifts 3

Most rooms are split with a number of steps between levels

Interconnecting, adjoining and double rooms are also available

When booking interconnecting rooms, two rooms of the same type must be booked at the same time

The majority of rooms have a sea view

A limited number of single rooms are available

Family suites are available and sleep up to six adults
Hotel Facilities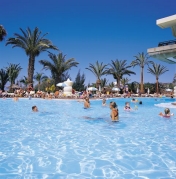 Swimming pool

The kids will love splashing around in their section of the generously-sized pool.

Energetic guests might like to join in a game of water polo.

but if you prefer to take things really easy, just relax with a refreshing drink from the pool bar.