Puerto Mogan tourist information, Gran Canaria, Spain
Search Just Gran Canaria Site
XXXN Map - Street map.
Interactive Gran Canaria resort map by Google. To highlight a resort or location on the map by click name in above left or click icon on the map. Change the map scale - Zoom in or out or move the map with the controls on the left side of map or drag map to move

Airport

Resorts

Apartments

Aparthotels

Hotels

Attractions

Bars

Restaurants

Beach

Bus Stop

Chemist

Cathedral

Church

Marina or Ferry

Hospital

Parking

Post

Scuba Diving

Shopping

Taxi Rank

Tourist information
Puerto Mogan - Tourist information & resort guide, Gran Canaria, Spain
Puerto Mogan - Tourist information & resort guide


Puerto Morgan Panorama of the Marina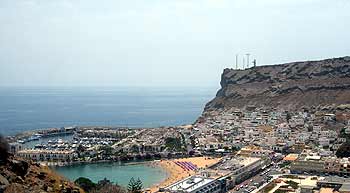 Looking down at Puerto Mogan
Description of Puerto Mogan
Puerto Mogan is a picturesque fishing port. It appears to be undiscovered by the UK package holiday industry. This changed in 1966 summer season when Thomson holidays offered Puerto Mogan as a destination.
It has a sea water inlet with bridges and is know as "Little Venice" In total contrast to lively Playa del Ingles and Maspalomas, the picturesque town of Puerto Mogan is ideal for those seeking peace and quiet. Set at the tip of the Mogan Valley, on the foot of a rocky outcrop looking out to sea, Puerto Mogan is based around a pretty yacht-filled marina. The old town is a cluster of quaint, typically Mediterranean houses and whitewashed cottages, which climb up a steep hillside.
The main resort also has a village-like appeal with buildings emblazoned with bougainvillea and overhanging geraniums lining the narrow streets. Aptly named 'Little Venice', a canal runs through the resort, spanned by a criss cross of enchanting footbridges, while the harbour-front simmers with quay side restaurants and bars.
Harbour in Puerto Mogan
Yacht Marina Puerto Mogan
Harbours and Marinas are always a popular feature for tourists. Puerto Mogan is the most important marina in the Canary Islands with 950 berths that can berth boats from 5 to 70 metres
Boat Excursion Trips Puerto Mogan
A wide varity of boat trips are available from the harbour including Dolphin watching, fishing, submarine trips
Scuba Diving from Puerto Mogan

Atlantik Diving. Hotel Club de Mar. Puerto de Mogan
Yellow Submarine Underwater Trip

The yellow submarine takes tourists on trips to sea the underwater world through its view ports.
Trips on the Yellow Submarine from Puerto Morgan harbour
Pick up by coach from Taurito, Playa del Cura, Amadores, Puerto Rico, Playa del Ingles, Maspalomas, San Agustin and Bahia Feliz.
Total tour time 5 Hours
Yellow submarine trips Lasts about 45 minutes
Yellow submarine Dives to 20-30 metres
The inside of the submarine stays at surface pressure
The submarine normally visits a shipwreck on the sea bed, and on some visits scuba divers can be seen who dive on the same wreck.
Book a Trip on the Yellow Submarine
from Puerto Morgan harbour
Beaches

Sheltered by high cliffs, and the harbour Puerto Mogan boasts a small, gently shelving fine beach whose striking black volcanic sands spill out into turquoise seas. The beach is located next to the harbour which protects it making it ideal for children.
Nightlife
While Puerto Mogan is home to a host of waterfront bars and a disco, generally speaking it's a fairly quiet resort. Most evenings are spent enjoying a good meal or a quiet drink out along the quay side as the sun, streaked with red and gold ribbons, drops below the horizon for another day. The selection of bars, includes jazz and piano bars
Shopping
Head down to the marina where you'll find a host of boutiques and souvenir shops. However, for a day of real retail therapy it's well worth heading up to Gran Canaria's capital, Las Palmas, where you'll find a host of shops and shopping malls selling everything from inexpensive gifts to international haute couture.
Chemists
Subida los Riscos, 3, Tel: 928 56 55 04
Market
There is a large popular market held on Friday mornings on the fishermen's quay.
Restaurants
Puerto Mogan's harbour-front overflows with restaurants, many selling locally caught fish. For a real taste of the Canaries, try 'morena frita', fried morena fish served with 'papas arrugadas', wrinkly potatoes baked in their skins with salt. Another popular dish is 'sama frita', fried pieces of sama drizzled with 'mojo verde', a green sauce made from oil, coriander and garlic.
Climate
Puerto Mogan's locations shelters it from the wind giving it excellent average temperatures , with long hours of sunshine giving the vegetation a pseudo tropical look with plenty of cacti growing in gardens and in the wild. Rainfall is infrequent and scarce but can at times be very heavy.
Transport - Local Buses
Bus Stops in Puerto Mogan: Bus station in the town centre
Popular Coastal Bus Routes: 1, 32
There are other Routes run inland into the mountains
More information on Bus routes Southern Gran Canaria
Tourist information Office
The Tourist information Office is located by the quayside of the harbour
Address: Avda de Mogan s/n, Puerto Rico (Mogan) 35130 Telephone: 0034 928 560 029 Fax: 0034 928 561 050
Website: www.mogan.es
© Copyright 2004
just-gran-canaria.com
Just Gran Canaria - Tourist information, attractions, hotels, apartments, holidays and flights to Gran Canaria, Spain