Puerto Rico, Map, Tourist Information, Gran Canaria, Spain.
Search Just Gran Canaria Site
Puerto Rico Map
Interactive Puerto Rico Map by Google. To highlight a location on the map, click name in above or left or click icon on the map. Change the map scale - Zoom in or out or move the map with the controls on the left side of map or drag map to move

Airport

Resorts

Apartments

Aparthotels

Hotels

Attractions

Bars

Restaurants

Beach

Bus Stop

Chemist

Cathedral

Church

Marina or Ferry

Hospital

Parking

Post

Scuba Diving

Shopping

Taxi Rank

Tourist information
Puerto Rico Menu
Puerto Rico - Tourist information & guide


Puerto Rico Panorama Photograph
The main Puerto Rico Nightlife area is located along the valleybehind the left hand side of the central hill in the photograph
Description of Puerto Rico
Take a stark, narrow valley, add a wall of gleaming white apartments built into the steep hillsides, glorious views, tropical palms and a sandy beach - result: Puerto Rico. Steps thread the hills down to the beach and centre; families with buggies or anyone with trouble walking will find taxis essential. The gently shelving, man-made beach is very popular especially with the British.
The resort and, it's beach and Aquapark are very popular with families.
The hilly nature of Puerto Rico can make it difficult for people who are less mobile and for buggies
Click Photo for larger Photo
Puerto Rico Breakwater

Puerto Rico Beach

Red trees

Lilac to purple bushes
Take a Sea Front Stroll

Bahia Playa Restaurant
Location of Puerto Rico
Located on the South West coast of Gran Canaria, Canary Islands, Spain
The resort is built up the steep sides of a valley. This gives magnificent views from most of the properties.
Playa del Ingles 25km
Airport 30km
Transfer time Airport - Puerto Rico
Approximate package holiday coach transfer time 40 minutes to 1 hour 10 minutes
Puerto Rico Harbours
A picturesque harbour s always a major attraction in any coastal resort. This is doubly so in Puerto Rico because it has 2 harbours located on both sides of the beach.

(Port of Call) is harbour catering for Ferries and Cruise boats, and SCUBA diving etc.


The harbours are a magnet for yachtsmen and sightseers.
Click Photo for larger Photo
Puerto Escala Swimming

Puerto Base

Puerto Escala

Pirate Ship
Puerto Rico Boat trips
A selection of boat trips and water sports can be booked at the harbours
Trips to see dolphins and whales
Fishing trips provided by the following boats: Barrakuda II, Blue Marlin III, Cavalier, Dorado, Felusi, Katfish, Sailfishand white stryker.
Most vessels provide fishing equipment and bait, some also provide drink and food.
Ferries to other resorts along the coast
Boat hire
Low Budget Boat Trip - Tourist Ferry
Click Photo for larger Photo
Ferry runs between: Puerto Mogan, Puerto Rico, Anfi & Arguineguin

Ferry runs between: Puerto Mogan, Puerto Rico, Anfi & Arguineguin. All boats also have onboard refreshments bar.
The ferries have an hourly service
One Way or Round Trips are available
Scuba Diving
Click Photo for larger Photo
Some Divers alongside a harbour jetty

Dive Center Logo * an Octopus

A Happy group of Divers in a rigid Inflatable

A fabulous photograph of a large shoal of fish
There are 3 diving schools near to the harbour walls on both sides of the Puerto Escala harbour
Aquannauts. Puerto Base
Blue Water Diving
Top Diving. Puerto Escala C. Doreste y Molina s/n, 35130 Puerto Rico,
Zeus Dive Center Puerto Rico Diving Puerto Rico Diving
Facilities in Puerto Rico
Watersports are offered at the marina, as is deep-sea fishing. Tennis, squash, mini golf and a water park can all be found here. The traffic-free centre in the valley is crammed with shops, restaurants, a disco and bars, many playing music – audible even from the apartments.
Post Office
Address of the Puerto Rico Post Office (Correos)
Avenida de Mogan 1, 35130 Puerto Rico, Tel. 928 56 11 83
Aquapark - Puerto Rico
An Aquapark is open 10am - 6pm with a huge water chute. The Aquapark in Puerto Rico is near the CC Puerto Rico probably has the longest and fastest water rides on the island and offers several slides –different pools as well as a kindergarten and a restaurant . Fabulous fun and an ideal day out for the whole family.
The Aqua park is located on the inland side of Puerto Rico 1.5 kilometres from the beach
Puerto Rico Beaches


Panorama of Puerto Escala and Puerto Rico Beach
The gently shelving, man-made beach makes it an ideal bathing beach, especially with families with children.is very popular (expect crowds in high season).
The sandy beach is also next to, and therefore protected by the harbour walls which smoothes down any wave effect making it safer for small children. There is a harbour / Marina located at both end of the beach. Puerto Base, the main harbour is located in front of the large building, the Marina Suites Aparthotel, which is under the hill in the centre of the photograph. The smaller marina Puerto Escala is located in the foreground.

Click Photo for larger Photo
Beautiful and popular Puerto Rico Beach
The sea is also buoyed and roped off to keep boats away from most of the beach.
Watersports from the Beach
Aqua Sports operate from the beach with
A private jet ski circuit with instructors
Banana boat excursions
Click Photo for larger Photo
Peddle boat

Sailing

Sailing

Power Boats
La Mar Swimming Pool open to the public
Most apartment complexes have there own swimming pools but there is also a public swimming pool in Puerto Rico just a few metres inland from the centre of the beach.
Click Photo for larger Photo
Video of La Mar beach Club
Puerto Rico Nightlife, Bars & Clubs
We now have a separate page listing the top bars and clubs Puerto Rico Bars
Cliff Top Walk - Puerto Rico to Amadores
Click Photo for larger Image
Rock Pinnacle
There is a fabulous cliff top walk between Amadores and Puerto Rico. Take a camera with you to enjoy the stunning views. It is roughly 1 kilometre and takes around 20 minutes.
The Rock Pinnacle, photograph on the right, is along side the footpath, near the start of the path, and it overlooks Puerto Rico's Bay, Beach and Valley. The rock is surrounded by a profusion of cacti plants.
Shopping Centres in Puerto Rico
The centre of Puerto Rico has an array of shops and boutique most are located in one of the 4 shopping centres. For real shopaholics, a trip out to Las Palmas is essential as the city boasts a wide selection of chic boutiques, comprehensive stores and large shopping malls.
The Spanish call shopping centres Commercial Centres which is a more accurate name because there are probably more restaurants, bars, clubs and nightlife than shops.
All these Shopping centre locations are shown on our Puerto Rico Map
CC Puerto Rico
This is the largest commercial centre (shopping centre) in Puerto Rico. With shops, supermarkets, bars, restaurants, nightclubs, discos, banks, money exchange and a pharmacy. The centre is named into 3 areas Fase(Phase) I, II & III
This is the main nightlife centre
Avenida Tomas Roca Bosch, s/n Tel: 928 56 07 32
Europa Shopping Centre
Located on high ground between Puerto Rico and Playa Amadores on the Avenida de la Cornisa
Avenida de la Cornisa, s/n, Puerto Rico. Tel/Fax: 928 56 11 87
Pasarela Shopping Centre
Located near the Western Marina under the Cliffs and Main road
Calle Olímpicos Doreste y Molina, Puerto Rico. Telephone: 928 27 27 49
Chemists
CC Puerto Rico Shopping Centre, Tel: 928 56 09 99
Pasarela Shopping Centre
Puerto Rico Restaurants
Puerto Rico has a wide range of restaurants that serve a variety of international and traditional menus. Whatever your tastes or purse, you'll find something to suit you in the resort.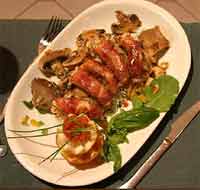 La Taberna Restaurant Timanfaya
The photograph on the right is from La Taberna Restaurant Timanfaya.
The restaurant has a very extensive menu to suit all tastes.
Avenida de Veneguera s/n, Aptos. Timanfaya 35130 Puerto Rico
Nearby Resorts to Puerto Rico
A 20-minute stroll along the sea front from Puerto Rico harbour
Playa Taurito is a select residential development, set back from a sandy beach between bright and lively Puerto Rico and the charming Mediterranean-style Puerto de Mogan . It has a small selection of shops and bars.
Puerto Rico Buses
Local Buses - Guaguas Mogán
A local bus service, essential in this large hilly region, is run by Guaguas Mogan. Timetables are displayed at the bus stops and obtainable from the Tourist Office. The fare is 80 cents for any distance.
Puerto Rico, Avenida Tomas Roca Bosch - Europa Shopping Centre - Playa de Amadores.
This service stops at most of the tourist apartment complexes en route.
Puerto Rico, Avenida Tomas Roca Bosch - Calle Roque del Este - the Ravine Barranco de Agua de la Perra
Puerto Rico, Avenida Tomas Roca Bosch -
Gran Canaria Buses - Global
Bus Stops in Puerto Rico: The main bus stop is near the Tourist Office
Frequent bus services, roughly every 15 minutes run along the coast, operated by Global bus services connecting the 3 nearby resorts of Arguineguín, Puerto Rico and Puerto de Mogán with the Maspalomas and Playa del Ingles
Popular Bus Routes: Click on a route number for more information
01 Las Palmas de G.C. - Puerto de Mogan
32 Puerto de Mogan - Playa del Ingles
33 Playa del Inglés - Puerto Rico - Puerto de Mogan
39 Puerto Rico - Parque Tropical (Playa del Ingles Bus station)
70 Puerto Rico - Palmitos Park
91 Las Palmas de Gran Canaria - Playa del Cura
66 Faro de Maspalomas - Aeropuerto (Airport) Catch one of the buses above and change to Bus 66 in Maspalomas or Playa del Ingles, we recommend changing at Playa del Ingles bus station (Estación Parque Tropical) because you have a shopping centre next door for a cup of coffee if you have to wait for a connection.
More information on Bus routes Southern Gran Canaria
Puerto Rico Taxis
A 24 hour taxi service operates in the area. Taxi ranks are indicated with a letter T, taxi fares are cheaper than the UK.
Approximate Taxi fares (2007) for a rough guide only. Reduce the fare by a rough third for price in £ Pounds sterling
Puerto Rico to:
Las Palmas €57.30 , the
Airport €39.30
Playa del Inglés €16.40
Puerto de Mogán €12.40

More information from Taxi Cooperative Telephone 928 15 27 40
Ferries
A regular local ferry service runs between the ports of Arguineguín, Puerto Rico and Puerto de Mogán
This service is run by 2 different ferry companies
Líneas Blue Bird (Blue Bird line) Puerto Base, Telephone: 928 22 41 51 - 629 989 633 - 629 989 366
Líneas Salmón (Salmon line) Puerto Escala, Tels: 928 24 37 08 - 649 919 383 - 649 925 918
Car Hire
Avis Car Hire
Avis Car Hire is located by the Puerto Rico Shopping Centre.
Avis Car Hire, Tomas Roca Bosh S/n, Puerto Rico Mogan, Gran Canaria, 35130, Spain
More information Avis Car Hire on Gran Canaria
Puerto Rico Tourist information office
Click Photo for larger Image
TheOfficial Puerto Rico Tourist information Office is located slightly inland near the large roundabout on the main road GC500
Photograph on right of the Tourist information Office and roundabout with central fountains
Address: Avda. de Mogán , 35130, Puerto Rico (Mogán)
Telephone: 928 56 00 29
© Copyright 2004
just-gran-canaria.com
Just Gran Canaria - Tourist information, attractions, hotels, apartments, holidays and flights to Gran Canaria, Spain