Search Just Gran Canaria Site
Portonovo Apartments, Puerto Rico 3 Star
Popular with guests of all ages, the well-known Portonovo Apartments are a good choice for those who enjoy sampling the local cuisine while on holiday.Apartments.
Situated in the cosmopolitan area of Puerto Rico, and only 100 metres from the beach and Resort centre with Bars, restaurants, Shops and nightlife.
Apartments are conveniently placed for enjoying all the resort has to offer in the way of amenities.
Suits couples and families of all ages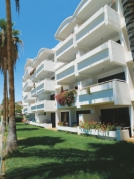 Photograph Portonovo Apartments
Book a packag holiday
Book a Package Holiday with Flight or just the Hotel with Thomson

Book Accommodation Only, Accommodation + Flight &/or Airport Transfers with Sunshine Holidays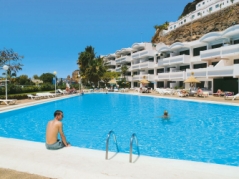 Photograph Portonovo Apartments Swimming pool & apartments in the background
Facts
Number of apartments 153
Number of lifts 4
Some apartments overlook the road so some noise may be experienced
Location Portonovo Apartments
Portonovo Apartments, Avada. Juan Diaz, Puerto Rico, 35100, Gran Canaria, Spain
Situated in an excellent position near the harbour-front.
A short walk away from the superb bay of Puerto Rico
Close to a good selection of restaurants
100m to the beach
100m to the nearest shops, bars and restaurants
800m to resort centre
Some apartments overlook the road so some noise may be experienced
Facilities & Activities
Swimming pool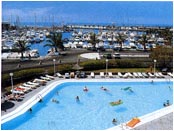 Photograph Portonovo Apartments Swimming pool & Puerto Rico marina in the background
Swimming pool
Sun terrace
FREE sunbeds
Children Facilities
Apartment Facilities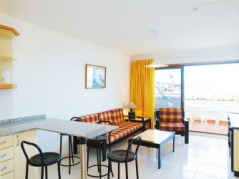 Photograph Portonovo Apartments dinning area & lounge
All apartments have kitchenette (3 electric rings, microwave or oven and fridge
Bath or showerand wc
Balcony or terrace
Safety deposit boxes available
One bedroom apartments with twin bedroom and single sofa bed in the lounge
2 bedroom apartments with 2 twin bedrooms and single sofa bed in the lounge
Maid service is 5 times a week
Puerto Rico Menu