Maspalomas tourist information and Maspalomas Map
Search Just Gran Canaria Site
Maspalomas Map - Street map.
Interactive Gran Canaria resort map by Google. To highlight a resort or location on the map by click name in above left or click icon on the map. Change the map scale - Zoom in or out or move the map with the controls on the left side of map or drag map to move

Airport

Resorts

Apartments

Aparthotels

Hotels

Attractions

Bars

Restaurants

Beach

Bus Stop

Chemist

Cathedral

Church

Marina or Ferry

Hospital

Parking

Post

Scuba Diving

Shopping

Taxi Rank

Tourist information
Maspalomas resort Tourist information & resort guide
Maspalomas - Tourist information & resort guide with photographs

Maspalomas Sea Front panorama with the start of the Maspalomas Sand dunes on the right

Maspalomas resort panorama from the cafe next to the information office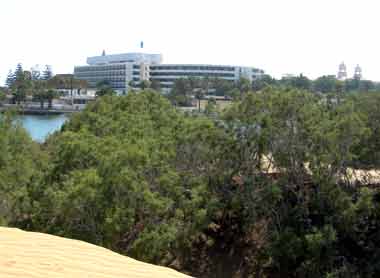 Photograph taken from the edge of the Maspalomas sand dunes
see bottom left, over the Charca de Maspalomas, Maspalomas
Oasis to the Palm Beach hotel in Maspalomas,Top centre left
and the 2 towers, top right belong to the Gran Hotel Costa
Meloneras, on the coast at Meloneras,
The resort is famous for its sweeping sand dunes molded by winds carrying Saharan sands across the sea from Africa. The dun escapes are peaceful expanses and are particularly pretty at sunset.
Location
Located 2 kilometres west of Playa del Ingles on the southern tip of Gran Canaria, one of the Canary Islands, which belong to Spain.
Transfer time Airport - Maspalomas
Approximate package holiday coach transfer time 30 to 40 minutes
Description of Maspalomas
Photograph from Maspalomas of the Faro Lighthouse
Maspalomas is quieter than its party loving neighbour Playa del Ingles, making it suitable for family holidays. Maspalomas is located Maspalomas is separated from Playa del Ingles by the Maspalomas Sand dunes and nature reserve. As Maspalomas has grown new adjacent areas of tourist hotels etc have been built. These areas are called Meloneras , Campo Internacional and Sonneland.
Maspalomas Beach
Maspalomas Beach comprises of a very pleasant sandy beach backed by a row of sea front cafes, bars and restaurants. As you walk along the beach beyond the inland fresh water lake the beach widens to the massive sand dunes of Maspalomas. A photograph of the Sahara-like sand dunes is difficult to forget - the sands certainly make a lasting impression. Better still, come and walk through their virtually empty expanses to the sea, and you will remember the experience for many damp British summers to come.
Between the beach and the lighthouse, the Faro de Maspalomas is a short rocky area, beyond the lighthouse the sea front is rocky. The lighthouse is also the boundary between Maspalomas & Meloneras.
Try out windsurfing
See location on our Maspalomas Map
Nightlife and Bars
Maspalomas is much quieter than its vibrant neighbour down the coast, Playa del Ingles, and consists of a myriad of low-rise, whitewashed buildings. Consequently, for a night on the tiles, a short trip down the coast is recommended. You will of course find a good selection of bars and restaurants and most of the hotels, and some apartment complexes have nightly entertainment.
Shopping
Maspalomas has a variety of local shops and little boutiques and a largish shopping centre, CC Varadero next to the rocky sea front and the very large CC Faro 2 shopping centre inland of the golf course.The shopping centres around neighbouring Playa del Ingles offer a more comprehensive shopping experience. Alternatively, head up to the island's capital, Las Palmas, which is renowned for its excellent shopping malls and traditional stores.
Municiple Market
Indoor & outdoor market with a wide varuety of goods.
A good place to test your haggling abilities.
Open Wednesdays and Saturdays 8am to arund 1 to 2 pm
The 72 Bus run from Bahía Felíz via Playa del Aguila, San Agustín, Playa del Ingles
See locationof shopping centres on our Maspalomas Map
Restaurants
Enjoy meal times in the relaxed surroundings of Maspalomas - there are many eateries to choose from. For a change of scene, and even more variety, pop along the coast to nearby Playa del Ingles or the higher class restaurants in Meloneras.
Agazarl SL. tel.+34 928779061
Amaiur tel.+34 928764414 +34 928764414
Bar Restaurante La Charca tel.+34 928142817
Bronce II tel.+34 928768987
Campo de Golf Maspalomas tel.+34 928767343
Cecilio Martel Suarez tel.+34 928143570
Cohamsa tel.+34 928766350
Dali tel.+34 928769978
Don Quijote tel.+34 928141424
El Nublo tel. +34 928768878
El Palmeral tel. +34 928143378
El Senador tel. +34 928142068
El Toro tel. +34 928140793
Emibe SL. tel. +34 928140943
Escalerita tel. +34 928760223
Gallego Balear SL. tel. +34 928140062
Hon-Ei Chen Chan tel. +34 928142655
Jaime Balbas Camus tel. +34 928145375
La Bodega tel. +34 928140933
las Tapas tel. +34 928761594
M.r.el Meixon SL. tel. +34 928142737
Mallorca tel. +34 928770516 +34 928770516
Mercurio Vega Vega tel. +34 928141196
Michelangelo tel. +34 928767627
Facilities / Attractions in Maspalomas
Faro de Maspalomas - Lighthouse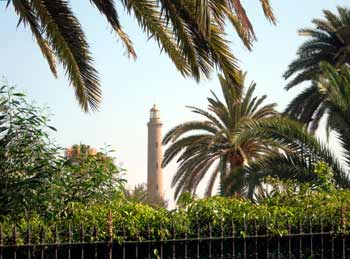 The Faro de Maspalomas is a 65 metre (213 feet) high lighthouse built in 1886 dominates the skyline. It is located on the sea front at Maspalomas near to the start of the Maspalomas sand dunes and Maspalomas Oasis. The Faro de Maspalomas is the talleststone lighthouse in the Canary Islands.
The light is visible for 19 nautical miles.
The Faro de Maspalomas is impresive and distinctive landmark, unfortunatly it is not open to the public.
See location Faro de Maspalomas on our Maspalomas Map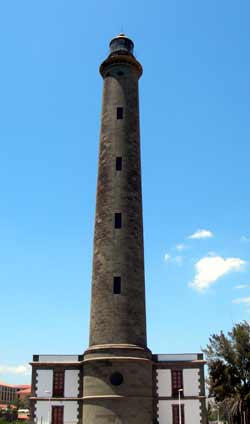 Charca de Maspalomas - Oasis
This freshwater lagoon looking oasis is located between Maspalomas and the Maspalomas sand dunes Starting from about 200 mt's from the sea, it stretches inland to the golf course where it narrows to a canal width before widening again and ending at the autopista main road. On the Maspalomas town side there is a paved walkway, on the other the sand dunes. which attracts a variety of different birds
Maspalomas sand dunes
The are a protected nature reserve with several trails marked by wooden posts.
More information Maspaomas dunes
See location of Maspalomas sand dunes on our Maspalomas Map
Golf course
The largest Golf course on Gran Canaria
Waterparks
Aqualand Maspalomas sometimes called Aqua Sur
Aqualand (Aqua Sur) Maspalomas is the largest water park in the Canary Islands. The park is located at a tropical oasis in the south of the island, just to the north of Maspalomas. The park is open all year round thanks to the constant balmy temperature of the island. In an area of 90,000 m2, the park includes 13 attractions and a mind boggling 33 water slides. The star attraction is the Tornado.
Buses:
Global Bus from Playa del Ingles and Bahia Feliz / San Agustin– Line 45
Global Bus from Puerto Rico and Faro Maspalomas - Line 70.
See location on our Maspalomas Map
Ocean Park - Waterpark CLOSED
See Aqualand
Holiday-World
Gran Canarias largest funfair and leisure complex
More information & photographs of Holiday world
See location on our Maspalomas Map
Maspalomas Transport - Local Buses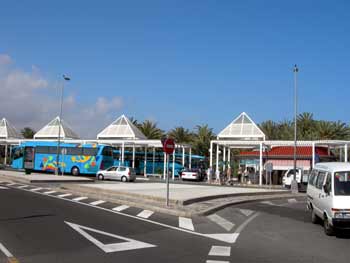 Photograph Maspalomas Bus Station - Faro de Maspalomas
Bus Stops in Maspalomas
Main bus Station Faro de Maspalomas
Popular Bus Routes: 5, 29, 30, 50,
Campo de Golf
Located on road Tour Operator Neckerman. The bus in the opposite direction going towards Playa del Ingles is outside Cordial Green apartments
Cordial Green (Campo de Golf)
Located on road Tour Operator Neckerman. The bus in the opposite direction going towards Maspalomas bus station is outside Campo de Golf apartments
Holiday world
Located on the dual carriageway road Tour Operator TUI. The 2 stops are outside the Tropisol & Sonara Golf Apartments
Bus Routes 25, 30, 32, 36, 45, 52, 66, 70
Maspalomas Oasis
Bus Routes 32
El Palmeral Oasis
Bus Routes 32
Restaurante Mercurio
Verdi Mar
The 2 bus stops are diagonally opposite near the roundabout
Popular Bus Routes: 5, 29, 30, 50, 66, 70
More information on Bus routes Southern Gran Canaria
Tourist information Office
Maspalomas information Office
The tourist information office is located well inland near to where Maspalomas and Playa del Ingles merge on top of the ridge overlooking Campo Internacional.
This is also the location of a cafe bar with panoramic views over Maspalomas, Campo Internacional, & Meloneras all situated below the ridge
Address: Avda. Turoperador Tui (Campo Internacional) , 35100, Maspalomas (San Bartolomé de Tirajana)
Tel: 928 769 585
See location of Tourist information Office on our Maspalomas Map
© Copyright 2004
just-gran-canaria.com
Just Gran Canaria - Tourist information, attractions, hotels, apartments, holidays and flights to Gran Canaria, Spain