Amadores tourist information & Map
Search Just Gran Canaria Site
Amadores Map
Interactive Gran Canaria resort map by Google. To highlight a resort or location on the map by click name in above left or click icon on the map. Change the map scale - Zoom in or out or move the map with the controls on the left side of map or drag map to move

Airport

Resorts

Apartments

Aparthotels

Hotels

Attractions

Bars

Restaurants

Beach

Bus Stop

Chemist

Cathedral

Church

Marina or Ferry

Hospital

Parking

Post

Scuba Diving

Shopping

Taxi Rank

Tourist information
Amadores - Tourist information & resort guide
Description of Amadores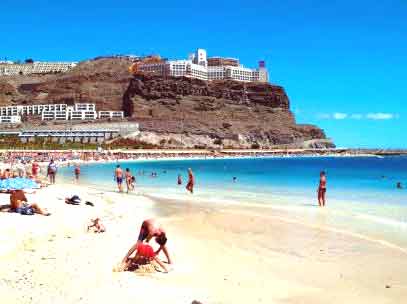 Amadores beach with the Clubhotel Riu Vistamar on the headland,
as can be imagined the hotel has magnificent views.
This is one of the hotels used by Thomson holidays
Typical of many resorts in the area, Amadores is located in a steep sided valley. At the mouth of the valley is the main area of this new resort area that focuses on the stunning man-made beach which is a sweeping curved bay of beautiful golden sand.
Location of Amadores
On the south west coast of Gran Canaria , one of the Canary Islands, Spain.
Amadores is 800m from Puerto Rico, and connected by a sea front walkwayand at a higher level the main road
Picturesque Mogan is close by with its pretty harbour brimming with fishing boats and pretty scenery.

Transfer time Airport - Amadores
Approximate package holiday coach transfer time 1 hour
Airport to/ from resort Apartments or Hotels
Amadores Beach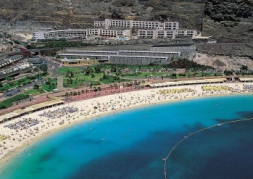 Playa de Amadores has a magnificent and beautiful blue flag beach. Besides being a romantic setting the beach is fine for children, the2 massive breakwaters that project from the bays headland provide powerful protection from the Altantic swell and waves.The beach is a long, wide swathe of soft, golden sand which shelves gently into the calm, blue sea.
Watersports can be found not far away at Puerto Rico Beach which is on the other side of the south western headland which is dominated by the Clubhotel Riu Vistamar .
Access to the beach is by 6 widw sets of steps, there is also ramp access for wheelchairs or kiddies pushchairs, and 2 emergeny ramps for vechiles.
See location of Amadores Beach on our Amadores Map
Amadores Nightlife
A selection of bars and restaurants are available, but for a wider variety of activities both during the day and in the evening, everyone heads towards Puerto Rico which is just ten minutes away further round the coastline.
Amadores Shopping Centres
Amadores has 2 shopping centres: Playa Amadores Shopping Centre and Amadores Shopping Centre, additional shopping centres are located in
the nearby resort of Puerto Rico.
See location ofAmadores Shopping Centres on our Amadores Map
Amadores Bars & Restaurants
The beach is backed by a variety of bars and restaurants serving everything from tasty snacks to full course meals. There are several terraces outside bars & restaurants for those who want to enjoy the weather and views while eating or having a cold refreshing drink located both on the sea front and in the Paraiso Amadores shopping centre and Playa Amadores shopping centres
Cliff ledge Walk - Amadores to Puerto Rico
There is a fabulous cliff top walk between Amadores and Puerto Rico. A path is located on the seawood side of the costal road GC500. Take a camera with you to enjoy the stuning views. It is roughly 1 kilometre and takes around 20 minutes.
See location of Cliff Top Walk on our Amadores Map
Global Buses
Amadores Transport - Buses
Amadores has 2 bus networks a local one and Global buses
Local Buses
The local bus service has several bus stops in both Amadores and it's neribour Purto Rico and help people cope with the hills of the resorts.
Buses run from around 8am to 11:30 pm
See location of Local bus stops on our Amadores Map
Global Buses

Global buses run the inter resort bus service
Bus Stops in Amadores:
On the road, Avenida Ministra Anna Lindh that runs inland up the valley centre. Near the rounsbout located near the Gran Amadores Apartments
These services run along the south west coast stopping in the resorts and are operated by Global bus services
1 Puerto de Mogán - Las Palmas de G.C. . About every 20 minutes
32 Puerto de Mogán - Parque Tropical bus station in Playa del Ingles. About every 30 minutes
33 Puerto de Mogán - Parque Tropical bus station in Playa del Ingles.Runs on Saturdays and Bank Holidays afternoons
More information on Bus routes Southern Gran Canaria
See location of Global bus stops on our Amadores Map
Amadores Tourist information Office
We don't think there is a Tourist information Office at Amadores
© Copyright 2004
just-gran-canaria.com
Just Gran Canaria - Tourist information, attractions, hotels, apartments, holidays and flights to Gran Canaria, Spain