Gran Canaria Resorts, Map, Information and Guide
This Just Gran Canaria guide site provides information about this popular holiday destination with it's all year round warm weather.
Search Just Gran Canaria Site
Gran Canaria Resorts Map
Interactive Gran Canaria resort map by Google. To highlight a resort or location on the map by click name in above left or click icon on the map. Change the map scale - Zoom in or out or move the map with the controls on the left side of map or drag map to move

Airport

Resorts

Apartments

Aparthotels

Hotels

Attractions

Bars

Restaurants

Beach

Bus Stop

Chemist

Cathedral

Church

Marina or Ferry

Hospital

Parking

Post

Scuba Diving

Shopping

Taxi Rank

Tourist information
Gran Canary Resorts menu
&
Click the thumbnail photographs to view a larger resort photograph
Gran Canaria List of Main Resorts
Information about Gran Canaria resorts
Arguineguin
Lying between Puerto Rico and Playa del Ingles is nearer to a fishing village than a resort.
More information Amadores
Bahia Feliz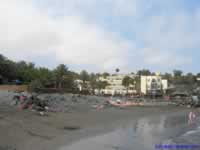 Bahia Feliz
More information Bahia Feliz
Maspalomas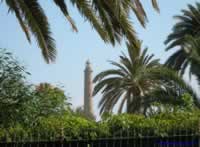 Maspalomas
The Maspalomas sand dunes or Maspalomas golf course seperate Maspalomas from Playa del Ingles
More information Maspalomas
Meloneras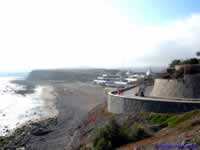 Meloneras
Meloneras is located on the coast and to the west of Maspalomas Faro lighthouse
More information Meloneras
Playa de Amadores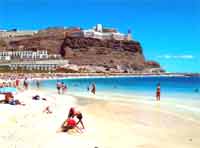 Playa de Amadores
More information Amadores
Playa del Ingles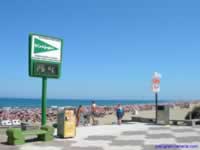 Playa del Iingles beach
Playa del Ingles is the main and most lively resort in southern Gran Canaria
More information Playa del Ingles information and guide
Puerto de Morgan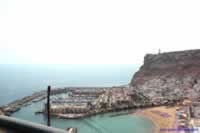 Puerto de Morgan
Puerto de Morgan is an up and comming resort with 2 harbours, one of which is a marina. The package tour operators are just starting to use Puerto Mogan, which is suitable for a relaxed holiday
More information Puerto Mogan
Puerto Rico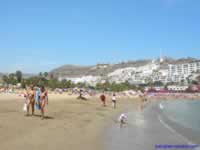 Puerto Rico
Puerto Rico is the second most important resort in southern Gran Canaria. A lively resort but not as lively as Playa del Ingles. The majority of accommodation in Puerto Rico is in self caterering apartments. The hotels in the resort are usually aparthotels, which are hotels where you can usually bookroom only, bed & breakfast or half board but the rooms are apartments with a kitchenette so you have the option of self catering.
The hilly resort has 2 harbours/ marinas , one on either side of the very sheltered beach. There is also a large lido swimming pool just inland of the beach.
More information Puerto Rico information and guide
San Agustin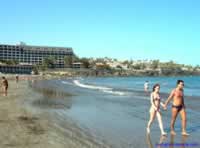 San Agustin
Located on the eastern side of Playa del Ingles
More information San Agustin
Playa Taurito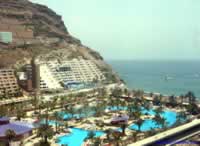 Playa Taurito
More information Playa Taurito
More Travel Sites
Resorts in Spain Costa Blanca & Benidorm Malta Tenerife
© Copyright 2004
just-gran-canaria.com
Just Gran Canaria - Tourist information, attractions, hotels, apartments, holidays and flights to Gran Canaria, Spain