Search Just Gran Canaria Site
Description of Arguineguin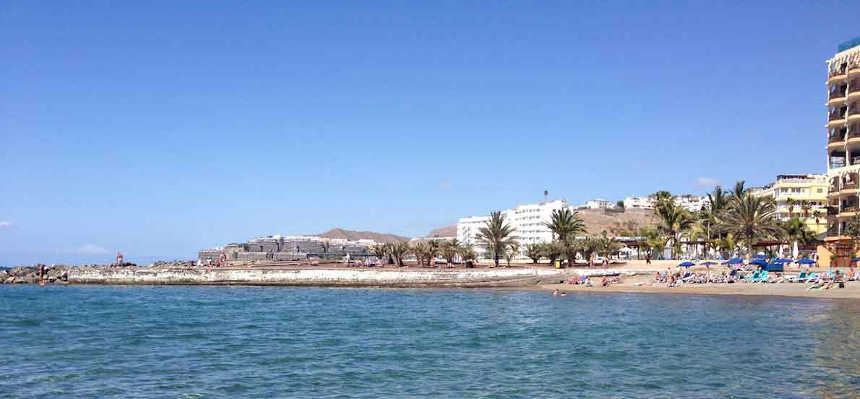 Arguineguin is a more of a Canarian fishing town than a tourist resort, but this is changing, and there are already several large tourist hotels in the town.
Playa del Ingles Bars & Nightlife Map
Interactive Gran Canaria resort map by Google. To highlight a resort or location on the map by click name in above left or click icon on the map. Change the map scale - Zoom in or out or move the map with the controls on the left side of map or drag map to move

Airport

Resorts

Apartments

Aparthotels

Hotels

Attractions

Bars

Restaurants

Beach

Bus Stop

Chemist

Cathedral

Church

Marina or Ferry

Hospital

Parking

Post

Scuba Diving

Shopping

Taxi Rank

Tourist information
Location of Arguineguin
Transfer time Airport - Arguineguin
Approximate package holiday coach transfer time
Arguineguin Harbour
Click Photo for larger Image
There is a tourist ferry service to both Puerto Rico and Puerto de Mogan from the picturesque harbour
Arguineguin Beaches
Click Photo for larger Image
There are 2 large horseshoe beaches, one on each side of the harbour.
Playa de Arguineguin on the east
Playa de las Maranuelas on the north west
Beyond Playa de las Maranuelas is a smaller horseshoe beach with rocks and a concrete wall across the entrance turning the bay into a calmer swimming pool, ideal for the little ones.
Arguineguin Nightlife
Arguineguin is not a Nightlife paradise, but if you are wanting a relaxed holiday this could be the place for you.
You will find some interesting characters in the fishermens bars around the harbour.
Arguineguin Shopping
Áncora Shopping Centre
The Áncora Shopping Centre is located in Avenida Francisco Navarro Navarro, s/n, Arguineguín. Tel/Fax: 928 73 68 34/928 73 54 11
Street market
Click Photo for larger Photo
Arguineguin hold a Street market on Tuesdays one of the largest on the south west coast.
The stalls are located along the seafront on the cement factory side of town
Other large markets are at San Fernando & Morgan
Chemists
Carretera General (Main Road), Tel: 928 73 51 84
Atindana, 2, Tel: 928 73 67 78
Edificio Doñana, Patalavaca, Tel: 928 73 62 52
Arguineguin Valley (Barranco-de-Arguineguin)
Click Photo for larger Image
The Barranco de Arguineguin is a dramatic & beautifull valley that runs directly inland from the resort of Arguineguin. This is ideal walking, territory because there are next to no metallic roads & only a few dirt roads suitable for 4 wheel drive & mountain bikes.
Arguineguin Restaurants
There are some excellent restaurants in Arguineguin, and as you can expect from a fishing community they tend to spaecialise in fresh locally caught fish.
Arguineguin Transport - Local Buses
Arguineguin is on thecoastal bus route with services to Playa del Ingles and Puerto Rico and beyond.