Cita Shopping Centre Map and Tourist Information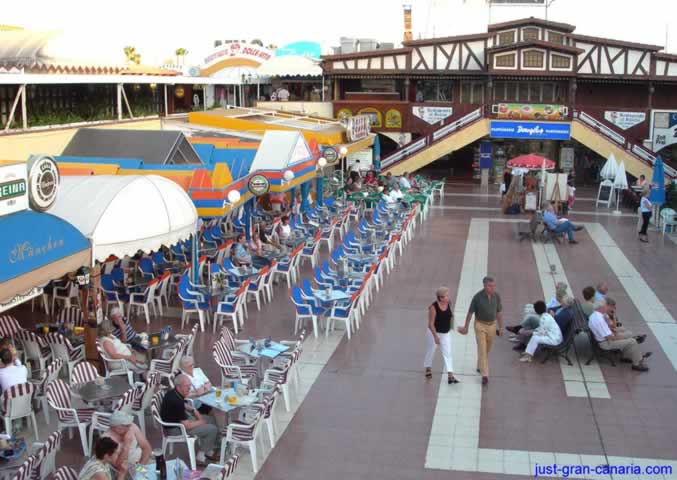 The Main Square in Shopping Centre Cita (CC Cita)
The Square is surrounded by Cafes and restaurants on the grround and First Floor
The Cita Shopping Centreis a rectangular shaped building that has entrances in Av. de Francia, the long side of the rectangle and in Av. de Alemania The other 2 sides are service roads.
For orientation purposes I am calling the entrance in Av. de Francia the front entrance
Shopping centre in Playa del Ingles
for Shops, supermarkets, restaurants, bars, clubs, pubs, nightlife
The shopping centre has 3 levels, Cellar, ground floor and upper level
Ground floor level
Around the large open air main square are several terrace restaurants, some of which put on live entertainment. A stage is sometimes errected on the far side of this square for specail events and shows.
Outside on the corner of Av. de Francia and Av. de Alemania is a well equiped chidrens playground
The Main square is located 40 metres in from the front entrance turn left and the square is 20 metres on your right.
Between the
The Cita Commercial centre is a very popular stop off place for families,tourists and gays as they return from the beach or sand dunes on the way to central Playa del Ingles.
The open air cafe bars being particularly sought out for a refreshing drink, snack or meal in the late afternoon, early evening, as people return from the beach or sand dunes on the way to central Playa del Ingles.
The Cita has a large selection of good restaurants many specialising in their own style of international cuisine
Cellar level
There are both hetrosexual and gay, bars and nightclubs. See gay CC Cita for the gay ones
Some of the "Girlie" bars and clubs offer attractions for male visitors. There are usualy touts outside on the main road who will try to entice you to these establishments.
Bars
From a great bierkeller to more traditional bars, pubs clubs and discoes - you will find all in the Cita Centre
Bar Don Quijote Ground
Café Marlene 1st. Floo. rGerman Bitburger beer, live music and 40 cocktails.
Restaurants
A vast array of restaurants, with a variety of cuisine style, are available in the Cita Centre, located on the ground floor and the first floor.
Click Photo for larger Photo
City Cafe Pizzeria, Ground floor C.C. Cita

Don Louis Restaurant, Ground floor C.C. Cita
Restaurant & Cafes
Altstadt Düsseldorf
Asia Cita Chinese, Specializing in Duck, 1st. floor
Bäckerei Zip fCafe, German baker - Freshly baked goods and pastries in this small cafe, Ground floor
Bar Oasis
Bar Restaurante Casa Martel, Canary and international cuisine, Paella Specialists
Cafe Wien Bar Cafe, Coffee, cake and pastries, Mainly gay, friendly and welcoming surroundings. Your on holiday so stop counting the calories, in this cream cake palace, 1st. floor
Cafeteria Dallas, Biggest Sports Screen in Cita, 1st. floor
Casa Antonio
Eetcafé Baccara
La Estancia
Marco Polo
Pizzeria El Padrino,
Pizzeria Pinocchio, Italian, Specializing in pizza, pasta and rabbit paella dishes, 1st. floor
Restaurant Bierbrezl
Restaurante Adria, Spanish and International, Specializing in fish and tapas dishes, 1st. floor
Restaurante Ambrosio & Tiziana, Italian, Pasta and pizza, 1st. floor
Restaurante Bélgica
Restaurante Capri
Restaurante Carlos V
Restaurante Casa Pedro
Restaurante Gatsby
Restaurante Savoy
Restaurante Tibor, Flambé, Specializing in flambé dishes, 1st. floor
Theo's Chicken House, Chicken pieces, Eat in or Take away, 1st. floor
Westfalia, Cafe, Large terrace, Ground floor
Zum Roten Löwen, German specialties, Chefs meatballs, potato salad prepared in-house, curried sausage, bratwurst, shashlik, Ground floor
Bar Don Quijote, Ground floor
Café Marlene & Bar, German Bitburger beer, live music and 40 cocktails, 1st floor
The Cita Shopping centre is the nearest shopping centre on your way back to Playa del Ingles from the Maspalomas Sand Dunes.
The main Square cafes and restaurants are very popular. You can either sit in the sunshine or in the shade and sip a cold cocktail or drink, have a tea or coffee and a snack or meal if you are hungry.
Just Gran Canaria - Tourist information, attractions, hotels, apartments, holidays and flights to Gran Canaria, Spain