Search Just Gran Canaria Site
Gran Canaria transport
Public Buses
Buses are called a "Gaugas". Routes are called lines which is "Lineas" in Spanish. To generalise the buses - comfort , etc. and the bus service is better than that in the UK, and far cheaper, especialy if you buy a multi trip BONO -GUAGUA card
See our Popular tourist bus routes in southern Gran Canaria
Bus Companies
Guaguas Municipales Las Palmas de Gran Canaria buses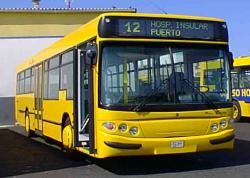 Photograph A Guaguas Municipales bus
Global Now in English
Full Bus Route page
PAYMENT for bus journeys
Direct Payment to Bus Driver
To the bus-driver, according to the current fare
BONO - GUAGUA. A Discount card
If you are making several jouneys then this is the best method
A card that can be purchased to give you multi trips at big discounts. There are a couple of different versions of this card.
To use
Tell the driver your destination and push th card into the machine, usualy just behind the drivers shoulder to be printed with the current journey, retrieve the card
To buy
Check with the locals where to buy them from. Selling outlets include bus stations, and some cafes, bars and newsagents usually near the main bus stops.
Ferries
Fred.Olsen
Fred.Olsen run ferry servicesincluding fast ferries between all the islands.
West of Tenerife from Los cristianos
East of Tenerife from Santa Cruz de Tenerife
Fred Olsen Ferries English page
Trasmediterranea
Between the Canary Islands
Cadiz on Spains Mainland
Naviera Armas
Between the All Canary Islands except La Gomera from Santa Cruz de Tenerife
East of Tenerife & Santa Cruz de Tenerifefrom Los Cristianos
Huela on Spains Mainland from both Tererife ports
Taxis
Taxis are cheaper than in the UK
Airport Transfers
This method of transport that you prebook online takes you to and from your hotel / apartment and the airport.
More information Airport Transfers
Car Hire - Car rental
Very Convenient especially if you have pre booked online and have your car waiting at the destination airport.
Also can be a convienient method of travel to and from a UK airport. Save on Car Parking charges if you drive your own car to the airport.
More information Car Hire